Lalitha joined our HoPE Learning Center about three years ago. She comes from a family that struggles for daily bread. Her father barely manages the daily expenses as Lalitha has four elder sisters and an elder brother.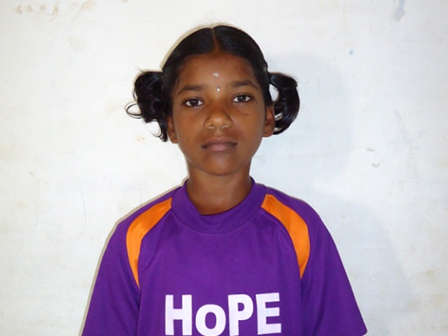 Unfortunately, Lalitha lost her mother as soon as she was born. It hurts most that she is the only child without any memory of her mother. Even without much to offer, she is taken care of by her siblings who adore her. Being the only earning member of the family, her father contributes every penny. Yet, the family suffers from not having proper meals every day.
When she joined our HoPE Learning Center, Lalitha was a shy and nervous child. She never spoke to anyone other than her family and was clearly having a tough time making friends. This was because she thought that children with mothers would never want to be friends with her. Lalitha says, "I never had friends in my neighborhood before coming to HoPE Learning Center. On the very first day of coming here I remember sitting alone in the corner and being very nervous seeing all the new faces. However, as my fellow mates started introducing themselves, I gradually came out of my shell. I found out that children liked me despite my extreme shyness. They helped me overcome my fears, and my teachers helped a great deal in making me who I am now.
I am very grateful to the sponsors of HoPE Learning Centers for providing us daily snacks. For me, and many others like me, who suffer without a proper meal, the snacks are the chief reason for our health. The yoga and PI have helped me concentrate in academics, and I enjoy all the monthly activities held here. Studying in a local government school, my English was very poor, but I have been learning a lot from the HoPE Learning Center and it had greatly improved my language skills. Now, my father proudly says his daughter speaks English.
I can never really express how thankful I am to Tripura Foundation because it has given me a chance to survive and hope for my future. All of my happiest memories come from the time I've spent in the HoPE Learning Center, and I am very grateful for that."